What is Anodizing Profiles?
07-03-2022
What is Anodizing Profiles?
To be honest , all of us know about Anodizing, but there is very big different from the 5.8meter aluminum profile in anodizing and small part in anodizing .
From the picture of hung the aluminum part as below :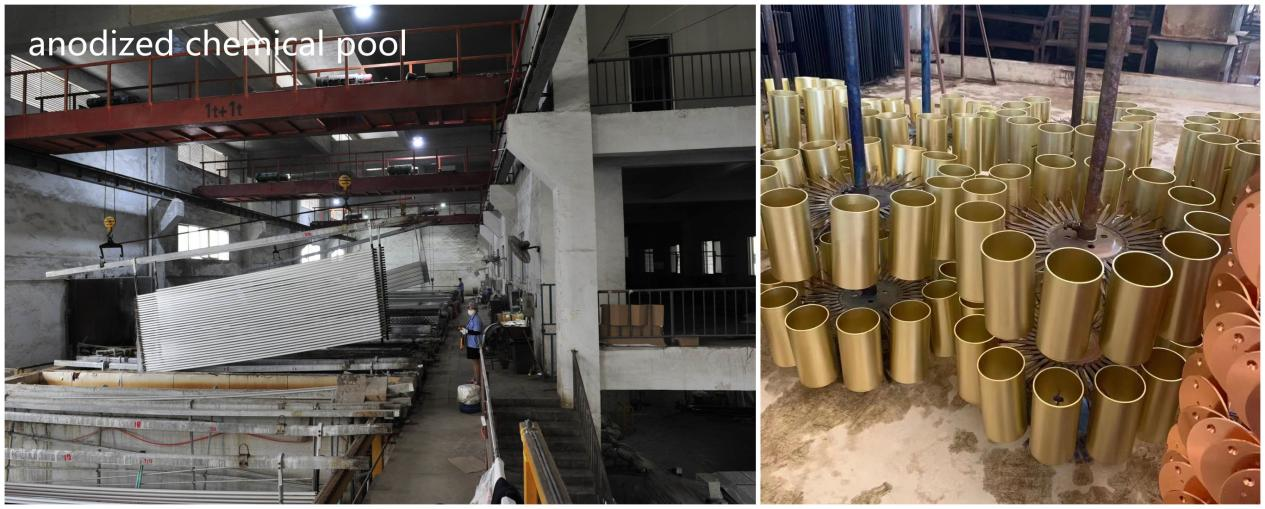 1.Normal length in 5.8 meters -6.5meters profile
2.Smart Part in different shape
The main reason for the damage to the anodic oxide film of the aluminum alloy is due to the deposition of dirt, which absorbs moisture and suffers corrosion, especially when the air contains sulfide, it is more prone to corrosion. When the building profiles are used for a long time, the surface of the oxide film must be cleaned on time to prolong the service life. The period of regular cleaning of the oxide film is generally half a year. The interval time can be determined according to the pollution degree of the use environment. When cleaning, it is necessary to clean the surface dirt without damaging the anode oxide film. The method of cleaning can be determined according to the degree and scale of damage to the oxide film that may occur. For small work pieces, it is usually wiped gently by hand. For large work pieces, it is required to try to dissolve the sticky deposits. After cleaning, generally use hot water containing appropriate lubricant or neutral soap to wash, and fiber brushes can also be used to remove adhering dust. Sandpaper, wire brushes or other abrasives are not allowed, nor are acids or bases allowed.
Curma Building Material Aluminum Co., Ltd. has experience in sales and operation, aluminum plate, aluminum tube, aluminum strip, aluminum foil, mirror aluminum plate, alloy aluminum plate, curtain wall aluminum plate, alumina plate, cold-rolled aluminum plate, hot-rolled aluminum plate, patterned aluminum plate, embossed aluminum plate, aluminum Rod, non-slip aluminum plate, southwest plate (imported) mirror aluminum plate, pure aluminum plate, pure aluminum coil, deep-drawn aluminum plate, lighting aluminum plate, bottle cap material, circuit board, transformer special use aluminum strip, aluminum foil, composite bottom plate, anti-rust aluminum plate, etc. Now there are more than 10,000 tons of inventory backlog, price advantage, quality assurance.
Various aspects of small oxidation profiles: 6061 aluminum plate surface oxidation or overall oxidation imported alumina plate who has the answer for you. Alumina plate is divided into surface oxidation and overall oxidation. Thin plate, ultra-wide aluminum plate, 6061 ultra-thick aluminum plate, 1mm imported alumina plate, top application, 6061 aluminum plate, 6063 aluminum plate, 2mm imported alumina plate, top application, 6061 aluminum plate, 6063 aluminum plate, 3mm imported alumina plate, top application 6063 aluminum plate 5mm imported alumina plate top application supply 6061 aluminum plate 6063 aluminum plate 6mm imported alumina plate top application supply 6061 aluminum plate 6063 aluminum plate 7mm imported alumina plate top application supply 6061 aluminum plate 60 and good oxidation effect 6063 bar, oxidation-free trachoma hexagonal aluminum bar Shenzhen Fengle Aluminum Co., Ltd. specializes in the production of aluminum rods. Commonly used aluminum and aluminum alloys include aluminum ingots for re-melting, high-purity aluminum, deformed aluminum and aluminum alloys, cast aluminum alloy ingots and casting aluminum alloys. 6063 Aluminum Rod: Chemical Composition Aluminum Al: Balance Silicon Si: 0.20~0.60 Copper Cu: 0.10 Magnesium Mg: 0.45~0.9 Zinc Zn: 0.10 Manganese Mn: 0.10 Titanium Ti: 0.10 Chromium Cr: 0.10 Iron Fe: 0.35 Single: 0.05 Total: 0.15 Mechanical properties Tensile strength σb (MPa): 130~230 The ultimate tensile strength of 6063 is 124 MPa